Authorize.Net WooCommerce Plugin
The WooCommerce Authorize.Net CIM plugin provides seemless credit card processing for your WooCommerce store. The extension supports one-time payments as well as subscriptions and pre-orders.
Logged in customers can securely save and re-use stored credit card profiles for fast and easy checkout. Authorize.Net's Customer Information Manager (CIM) replaces the stored card number with a Token that can only be used at your store for enhanced security.
Free Set Up - No Application Fees
Next Day Funding
Month End Billing (available upon request)
Accept Payments on Storefront or Admin Panel
CIM Tokenization for storing cardholder profiles
Allows Customers To Add, Edit, or Delete Stored Cards
Configure to Authorize Only or Authorize & Capture
Supports Subscriptions and Pre-Orders
Advanced Fraud Detection Tools
Simplified PCI Compliance
The WooCommerce Authorize.Net CIM plugin is available for free through Wordpress.org. Click here to go to download the extension.
Apply Online
For instant approval!
WooCommerce Storefront
The WooCommerce Authorize.Net CIM plugin allows you to seemlessly accept credit cards through your WooCommerce Storefront.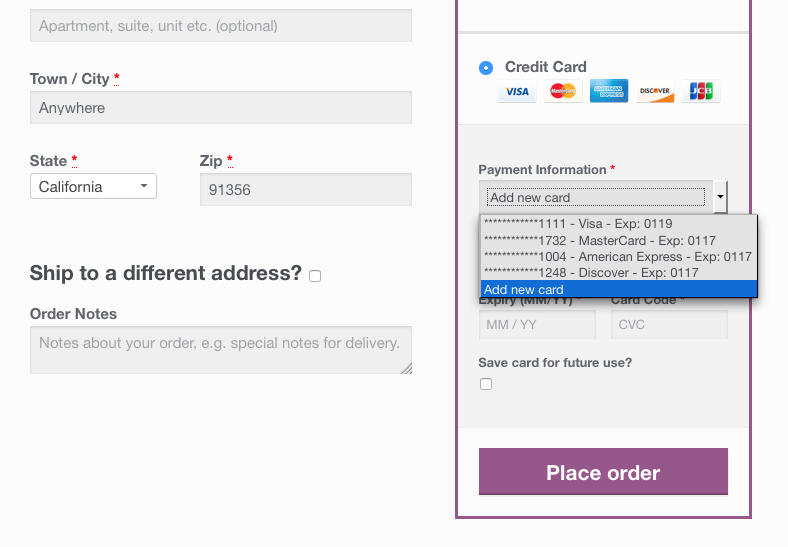 ---
Manage Stored Cards
Customers that are logged into your WooCommerce store can easily manage their stored credit card profiles.